"He delivers the afflicted by their affliction and opens their ear by adversity."
– Elihu
The book of Job is about the immense, God-ordained suffering of the most righteous man of his time: Job. Probably written in the patriarchal age by an anonymous writer, the book of Job is a well-recognized literary masterpiece and is considered one of the major books of wisdom literature in the Bible. The book of Job is known for its profound, verbal illustration of the nature of innocent suffering and its confounding mysteries. It is not solely concerned with demonstrating the great pains of human affliction, however. The book of Job highlights the character and purposes of an incomprehensible, yet absolutely sovereign, perfectly wise, all-powerful, just, and mercifully redemptive God as the stable, constant backdrop of seemingly meaningless and unfair suffering.
You've probably already heard that the book of Job is about suffering. But what is the main lesson that God teaches us about Himself through the book of Job?
You may have also heard that Job's three friends–Eliphaz, Bildad, and Zophar–presented inaccurate conclusions to Job concerning the reason for his extreme suffering. But what about the argument of Job's fourth friend, Elihu?
You may have heard of the patience/steadfastness/endurance of Job (James 5:11). But how do you explain his repentance in dust and ashes (Job 42:6)?
You may have read the first two chapters of Job, and then the last five chapters. Maybe you skimmed the bulk of the book in between. But what does the drawn out debate between Job and his friends communicate to us about the nature of God and suffering? What parts of the debate should we receive as truth?
And what can a worshipper of Jesus today profit from studying the book of Job?
In 2011 I had the privilege of defending an undergraduate thesis about the book of Job at USF. This gave me the precious opportunity to study Job for a few months. You can read my thesis here and see what I learned about God and suffering through my study of the book of Job. I pray you're edified by it!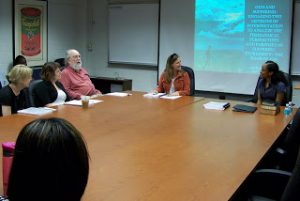 Thesis Defense 4/22/11 – USF Honors College
…
I have much more to learn about the book of Job, about suffering, and ultimately about God. I do pray that God will use this thesis to remind you and me (again and again) about His unchanging character so that we will be more trusting sufferers, and more faithful friends to sufferers, all to the praise of the glory of His grace in our lives.