This post was originally posted on DesignedMarriage.com
This past weekend I had the privilege of being a bridesmaid to one of my dear friends. So much of what was said and displayed at the wedding is still ringing in my ears, especially these two words: GRACE WINS.
Frankie & Gina's Story
Frankie and Gina's story is one that so beautifully reflects the story of Christ and His Bride. They went to prom together in high school and were a couple before either of them knew the Lord. Then Gina heard the gospel and gave her life to Christ. She then asked Frankie to move out so that she could honor God with purity and devotion to Christ. Shortly after this, Frankie also turned to Christ. But it would take years and many painful situations for Gina and Frankie to reconcile as friends, and then eventually as lovers.
The patience and trust in God that Frankie displayed for years as he faced trial after trial is nothing short of praiseworthy. As KB said in his speech at the reception, Frankie exemplified the fact that Christ is better than ease. And that life is hard, but God is good. God grew and used both Frankie and Gina tremendously over the years, but most of us in the Tampa community didn't really expect for God to bring them back together. But grace wins.
And so there was no dry eye at the wedding as they read their own vows to each other. I just about wept when Frankie told Gina something along the lines of, "You have been the source of my greatest sadness, and yet the source of my greatest joys." What a picture of Christ's passion for His Bride whose sin has caused Him the greatest agony on the cross, and yet whose redemption brings Him unspeakable joy! Grace wins.
Gina & My Story
I had the joy of meeting Gina back in 2011 before she left to Kurdistan for a missions trip. We pretty quickly became good friends and realized our passion for the Lord was mutually encouraging. We ended up being roommates for a while and served together in ministry.
But we went through a very dark time in our friendship for a couple of years. We ended up deciding to no longer be roommates, and for a while to no longer be friends. That season was one of the most difficult times for me in my walk with Christ. I had to learn how to forgive, and God was also revealing some serious relational idolatry issues in my heart. I went through a depression and felt I could never change, and that the weight of relational strain between Gina and me would never lift. I couldn't understand how such a deep, loving, Christ-filled friendship could turn into such an animosity. But God was working. Like Charles Spurgeon said (and as Pastor Justin reminded us at the wedding), when I couldn't trace God's hand, He was teaching me to trust His heart. I learned more about the gospel and God's faithfulness through that pain than I had for years prior to it.
Through many difficult conversations and many, many times of asking each other for forgiveness and trying to rebuild our friendship, God eventually restored our love for each other…so much so that she even asked me to be her bridesmaid. Again, grace wins.
A Beautiful Community
The reception was also a wonderful taste of the joys of community to come in eternity. The extended community of friendships that we have in Tampa is a beautiful, though imperfect picture of Heaven. As KB mentioned in his speech, our marriages are temporary, ending at death. But our union with each other in Christ will last for all eternity. Our community is forever.
As I joined my friends dancing and rejoicing together for Gina and Frankie's marriage, I was reminded of our different testimonies of how we all came to know Christ. And I remembered that we have all been through so much together as a community over the years. We've encouraged each other, worshipped together, sinned against each other, forgiven each other, suffered together, and bore each other's burdens. These people have impacted my life in more ways than they know. I think that's mainly why I cried while slow dancing with Jon at the reception. Not only was the picture of joy and unity that we will share in Heaven being played out before me at the reception; I got to be a participant! All because grace wins.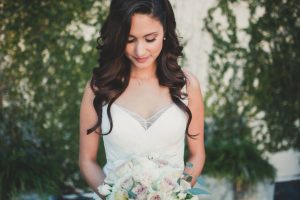 The Worshipping BrideBut I think my favorite part of the wedding was when we all sang "How Deep the Father's Love For Us". As we sang, I watched Gina worship God in tears in her white dress. It moved me to tears because I was thinking of her testimony, my testimony, the history of our friendship and all the times we would worship God together as roomies, the history of her relationship with Frankie…But most of all, it was a visual for me of the Church's testimony and what it will be like for us as the Bride of Christ to worship Him at the great wedding feast as described in Revelation 19:6-9. And that's what weddings and marriages are designed by God to do.

Thank you, Lord, for reminding me of your unfailing love and covenant faithfulness to us this past weekend. Thank You that Your grace wins.

Then I heard what seemed to be the voice of a great multitude, like the roar of many waters and like the sound of mighty peals of thunder, crying out,

"Hallelujah! For the Lord our God the Almighty reigns.

Let us rejoice and exult and give him the glory, for the marriage of the Lamb has come, and his Bride has made herself ready;

it was granted her to clothe herself with fine linen, bright and pure"- for the fine linen is the righteous deeds of the saints.
And the angel said to me, "Write this: Blessed are those who are invited to the marriage supper of the Lamb." And he said to me, "These are the true words of God."

(All photos by SavannahLauren.com)